In-Depth Zoot Prophet 2.0 Wetsuit Review
By Matt Sheeks, Pro Duathlete and Triathlete.
Today we're going to go through a quick review of the Zoot Prophet 2.0 Wetsuit which has been one of my favorite wetsuits!  I can tell you that after racing in the professional field for 2 years with this suit, it has held up really well.  To organize this review, I'm going to go through the features of the wetsuit from top to bottom and give my experience and observations on how the Zoot Prophet 2.0 has performed.  I'll also compare the wetsuit to some of the other suits I've owned in the past.
Collar area
This is a problem area for many wetsuits.  A lot of times the wetsuit can chafe your neck badly because the suit rides up on the neck or the folds of the neoprene don't line up very well when the suit is closed.  This was a big problem with my Xterra Vendetta.
I've noticed that the Zoot Prophet is really solid in this area!  Most of the time I can swim in this wetsuit without any sports lubricant, which is nice because sometimes you might forget to bring some to the lake.   Even so, you should probably plan on using a little Bodyglide or something similar just to be safe.
Another issue I've seen is that some manufacturers (HUUB specifically) aren't bothering to fold over and then secure the neoprene on the collar, thus reinforcing the area.  Rather, they are leaving the bare neoprene exposed.  This is possibly to reduce material or possibly just because it looks sexy ; I don't really know why.  I'm not kidding when I tell you that I broke two $600 Huub Aerious suits each on swim #1 or #2 before I said, "enough is enough, give me my money back."  Seriously, don't buy this suit unless HUUB has fixed their design flaw.
Anyway, no problem with the Zoot on this one.  The collar has held up just fine after over 100 open water swims.
Zipper
The Zoot Prophet 2.0 has the traditional zipper where you pull up to close the wetsuit and pull down to take it off.  A lot of wetsuit manufacturers such as Blue-Seventy have moved to the opposite direction (I believe for performance reasons) where you pull down to close the suit.  The issue here is that this makes the wetsuit very difficult to put on without someone to assist you – or at least these are the reports I've received.  I have to be honest that I really hate when manufacturers do something like this! – reducing functionality by 50% for a .01% increase in performance. I'm glad Zoot kept the original design because I'd rather not have this inconvenience.
Panels
The Prophet 2.0 uses the Yamamoto C40 or C39 rubber throughout the suit.  It does vary in thickness throughout the different panels.  The Prophet is 4 or 4.5mm thickness in the middle of the suit, and even 5mm on the back of the suit (to improve buoyancy and body position, according to Zoot).  In the arms the Prophet will use 2mm neoprene for improved flexibility.
Overall, it seems like Zoot has struck a really good balance with the panels.  I've swum in the suit a lot and I really have no complaints about the flexibility, buoyancy or body position.
Several manufacturers (again, HUUB and also Roka I believe) have cut down on the material in the upper body in attempts to improve body position in the water.  Comparing these suits to a more traditional style, it's pretty clear that I am no faster with the newer style of suit, and am in fact slower.  The reasoning is pretty clear to me – more neoprene material = more buoyancy.  More buoyancy means all else being equal, you go faster.  So, if you're like me and aren't a very good swimmer you should go with a suit that maximizes neoprene thickness up to the legal limit, and this will likely make you faster.  Manufacturers that are doing something like a 3:5 combo (meaning 3mm neoprene in the upper body and 5mm in the legs) claim that their thickness profile will make you faster because of improved body position, but I haven't found this to be the case.
In addition, on other wetsuits I will typically wear out the arm-pits before the rest of the suit.  They will start to wear and crack and break apart from friction (Xterra, TYR) but with the Zoot Prophet I haven't worn out the armpits at all!  I'm not sure that's because of improved engineering or because I'm just getting better at putting on my wetsuit properly, but I'm really thankful that this isn't happening with the Prophet.
Ankles/Removal
I'm really happy with the length of the ankles on the Zoot Prophet.  They seem to have struck a perfect balance between coverage and ease of removal.  In fact, I don't even use Bodyglide to help get my wetsuit off anymore because the Prophet comes off so easily.
Durability
The wetsuit has been super durable!  In fact, at the time I recorded the video there were virtually no flaws to the exterior of the suit.  No nicks, scrapes, or fingernail marks as you would normally expect.  Since then, I've noticed some weathering to the top layer of the rubber especially on the panel that encompasses the zipper.  But this has been after 2 years of hard use and I almost never wash the suit after I swim.  So, if you want to be extra cautious, I'd recommend washing it off with warm water after each use.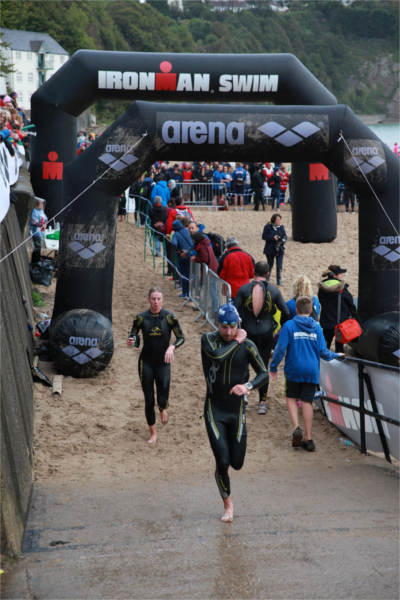 (That's me at Ironman Wales in the Zoot Prophet)
Conclusion
Overall, I'd give the Zoot Prophet 2.0 5/5 stars.  It's definitely better than any of the other wetsuits I've owned in the past, which is a long list including: TYR Cat 3, Xterra Vendetta, and HUUB Aerious.  For my purposes, I'm going to keep racing in it for 2017 and – because I just bought another one – into the foreseeable future.
I hope you got some value out of my Zoot Prophet 2.0 review.  If you're ready to buy a Zoot Prophet, you can use one of the Amazon links below.  This does give me a small commission and helps me continue to create honest reviews with extensive product testing behind them.
Shop for Men's Zoot Prophet 2.0 on Amazon
Shop for Women's Zoot Prophet 2.0 on Amazon
Until we ride (or run, or swim) again,
Matt
[Matt Sheeks is a participant in the Amazon Services LLC Associates Program, an affiliate advertising program designed to provide a means for sites to earn advertising fees by advertising and linking to Amazon.com]
My Final Rating
★★★★★
"
Best Wetsuit I have ever owned. High performing and durable - I will continue racing in this wetsuit in 2017 and beyond.
"