Eastern Oregon Altitude Project # 2
In this post I'm going to cover the running territory and landscape we'll experience at Eastern Oregon Altitude Project.
But first, I want to let you know that Eastern Oregon Altitude Project is locked and loaded and ready to go!  Reservations have been made and campers are signing-up. We just need a few more people to sign up by July 15 to make this camp a reality.  I'm excited how God is going to work in each of our lives!  Oh the things we will learn…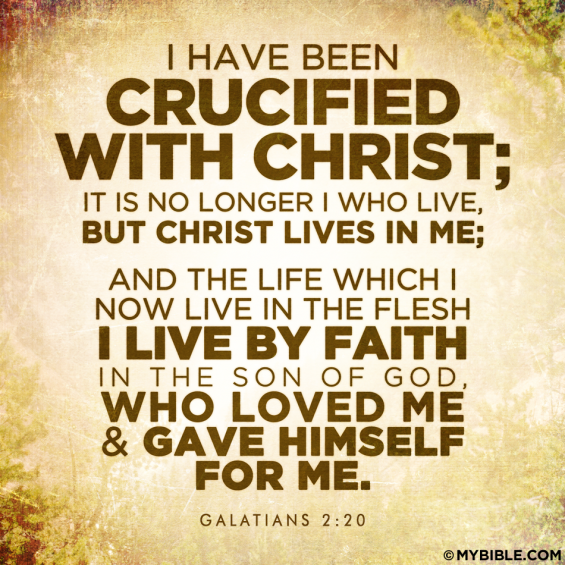 Send your $100 deposit via paypal to matt@tritheos.com to secure your spot!
Check's can also be sent to:
Matthew Sheeks
2212 1/2 Cedar St.
La Grande, OR 97850
Okay, onto the post.
Anthony Lakes
Anthony Lakes is by far the most striking and beautiful area that the camp will visit.  There are several good sized peaks in the area (Gunsight Peak is the most prominent), small lakes, and trails.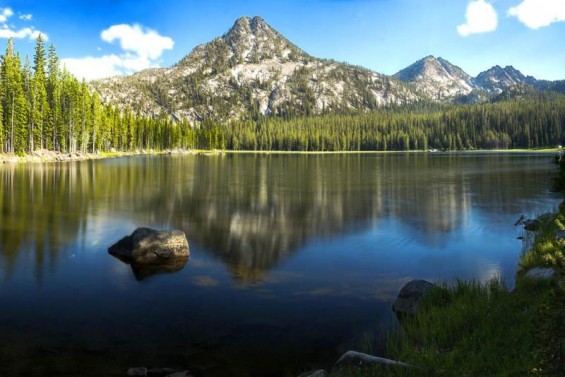 One demanding 12 mile loop includes a climb up through granite strewn trail on the Elkhorn Crest Trail, up to Angell Pass, over to Dutch Flat Saddle, and back down the Crawfish Basin trail.  All of the run is well over 7000 feet and peaks out at 8200 feet.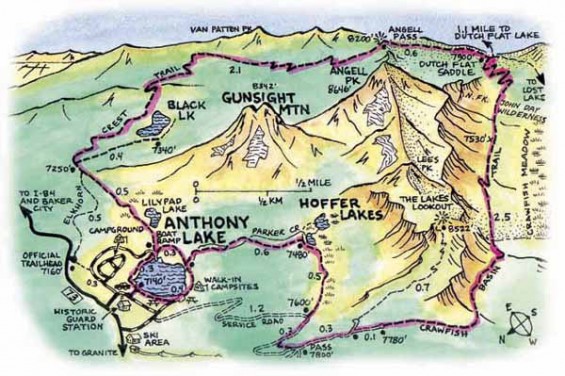 Brian Sather, a professor at Eastern Oregon University, has mapped most of the area, mainly for mountain biking.  Check out his Anthony Lakes Ride Guide for more info.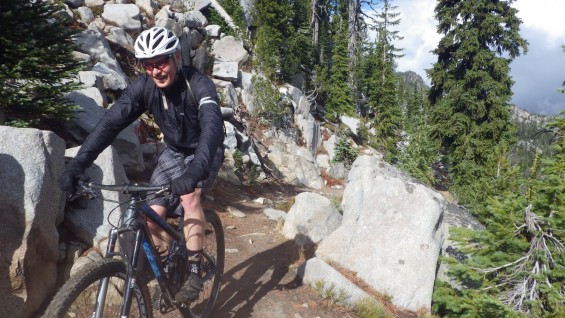 Phillips Lake
At 4000 feet elevation, Phillips Lake is a large man-made lake within 30 minutes of where we are staying.  There is a 16 mile, gently rolling singletrack trail around the lake.  This is the perfect location for a long run!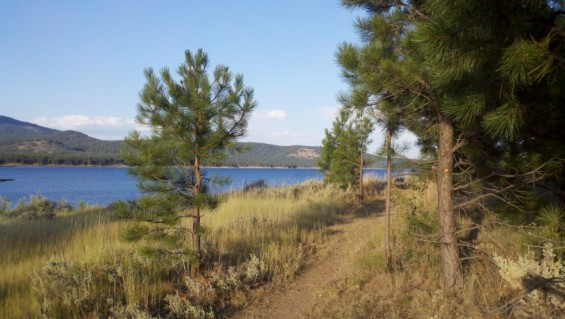 Brian Sather, one of my riding partners, has done a nice write up on the Phillips Lake area which you should check out if at all interested.
Here's the "official" trail map.  I think the La Grande Ride site does a much better job with mapping the area.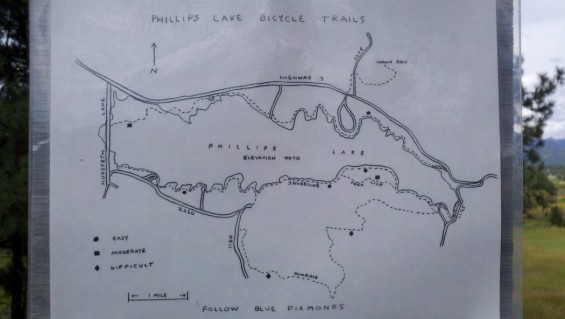 North Fork John Day River
This is a really interesting singletrack trail in the John Day Wilderness, just 25 minutes from where we stay.  It runs right alongside a river so it's gentle to moderate downhill and gentle to moderate uphill on the way back.  You can make a 15 mile loop (which takes a long time due to the terrain) by connecting it to the Crane Creek trail.
The Durango Herald has done a nice write-up on the trail which you can view here.
Along the way are old abandoned mining cabin as well as one that is still in use called the "Bigfoot Hilton" cabin.  Yes, bigfoot is still around in this area as well as many "tommyknockers" (the ghosts of miners who died when the mines collapsed on them).  Joking aside, anyone can just hole-up in the Bigfoot Hilton on a first-come, first-served basis, which is strange enough in itself.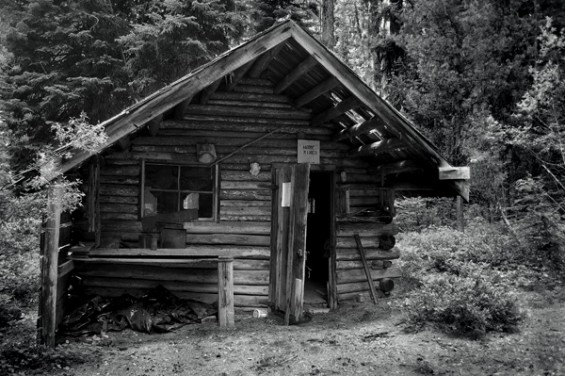 John Day Fossil Beds
Want to run here?  Let's Go!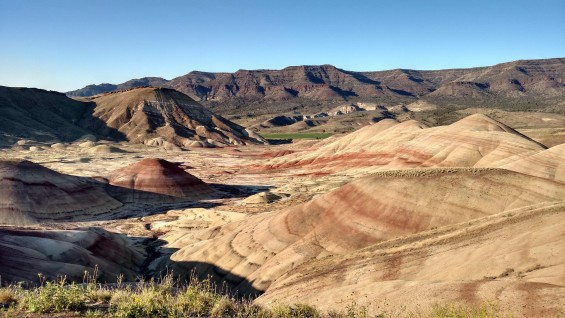 Some extravagant geological features are available in this area.  One is the Painted Hills of the John Day Fossil Beds.  I was just out here for the first time and my mind was blown!  It looks like you're transported to a dessert in the middle of Africa, but you're really still in good old Eastern Oregon.
We'll likely take a day trip out to the Painted Hills, as it's a good 1.5-2 hours from where we stay.  There are several short trails around the area that make sense to include as one continuous run, all connected by a dirt road.  There is also good river access here for some swimming after we get the hard work done.
Olive Lake
Olive Lake is loaded with singletrack and dirt road options.  It has a 3.5 mile loop around the lake with many additional singletrack trails that can be added on.  In addition, there is a dirt road that hovers between 5000-6000 feet that is perfect for tempo running.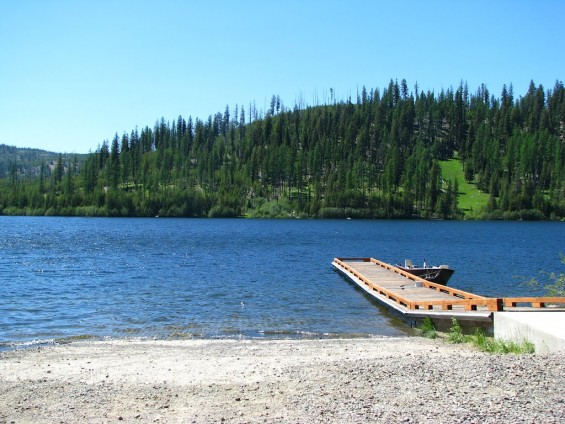 All you can see from the pictures is a lake and trees, but rest assured this is a beautiful place.
What does a Day at Camp Look Like?
We'll alternate days that will be structured along these lines:
Day 1:
7:30 AM – Leave for Primary Workout
8:00-10:00 – Primary Workout
10:30 – Brunch/Bible Study
12:00 – 4:30 – Freetime, Outing, or cross-training
4:30 – Secondary Workout
6:30 – Dinner
7:30 – Bible Study or Training Tidbits
Day 2:
7:30 AM– Easy AM Run from Cabins
8:30 – Breakfast/Bible Study
10:30 – 6:00 – Outing.  In many cases we'll be traveling to our primary workout, doing the primary workout, and then chilling out for awhile wherever we happen to be.  This might entail a hike, swimming, worship session, or service project.
6:30 – Dinner
7:30 – Bible Study or Training Tidbits, followed by personal testimony
How Do I Get There?
If you're not driving, you'll need to fly into Boise on July 31 where camp staff will pick you up.  We'll be renting a 12 passenger van and driving the van to Granite which is 3 hours away.  We recommend your flight gets in no later than 5pm.
We'll be waiting for you!
If you're driving, here are  directions from Boise:
Take I-84 EAST to Baker City for 120 miles. Take exit 306.
In Baker City, snake through town, following signs for Hwy 7, then take HIGHWAY 7 for 26 miles until the turn off for Sumpter.
Take a right on Hwy 410 towards Sumpter.
Drive approximately 17 miles to Granite, passing through Sumpter along the way.  You're all on pavement thus far.
In Granite, take a left on County Road 24 (I believe it's also signed as FS ROAD 10) .  In 5 miles, at a fork in the road take a right onto FS ROAD 10 which heads uphill.  In another mile you'll arrive at the FREMONT POWERHOUSE on the right.  The last mile is on dirt road.
What Do I Need to Bring?
– Bedding: Sleeping bag and twin sheets if at all possible
– 2 Towels
– Clothing for both hot and inclement weather
– Bible: Physical or digital is fine.
– Notebook
– Snacks, especially if you have any special dietary restrictions. This is a remote area so access to all the most advanced food products is not possible.
– Toiletry Items
– Running Shoes!
– Swimsuit
– Any additional recreation equipment you'd really like to have. Examples: Mountain Bike, Road Bike, Fishing Pole, kayak, stand-up paddleboard, etc.
– Cash! Except there's nowhere you can really spend it out here except on food and drink.
What We Provide
– We'll be covering all 3 meals while you're here, but if you're an ice cream fanatic or coffee fiend like myself there is a general store in Granite where some (emphasis on some) snack foods can be bought.
– Cooking Gear is provided at the cabins
– Some recovery items from my sponsors Garden of Life!
Okay, that's a good start.  Email matt@tritheos.com with further questions.
Godspeed,
Matt