Scott T2 Palani 2.0 Running Shoe Review
Review from Pro Triathlete Matt Sheeks
The Scott T2 Palani 2.0 may be just the ticket for you if you want a lightweight training shoe that is up to virtually any task.  Shelby from Run 26, a local running shoe store in my area, gave me these shoes to test out, and they quickly became my favorite all-around training shoes.  I found them useful for tempo runs, brick runs, trail running, hiking, weightlifting, and just kicking around.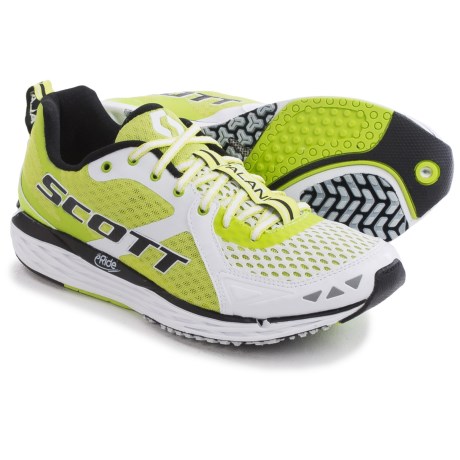 Key Highlights
Nice compromise between cushioning and weight.
Neutral shoe but seems to work okay for mild pronators such as myself
Large surface area on the sole which provides excellent ground-feel and stability
Great Durability especially for a lightweight trainer
Useful for fast running or trail running where one does not want to be encumbered by a "full" training shoe
Useful for hiking and strength training where one wants more flexible, less clunky shoes
Only Con: Laces don't stay tied even when double-knotted
Size 9s weigh in at 10 ounces – roughly 2 oz. lighter than a normal training shoe
Note:  This Review is for the T2 Palani 2.0.  This is the successor of the T2 Palani, and I am sure it shares several characteristics.  But this is quite a different shoe from the "Men's Palani Trainer" or the "Men's Palani Support" running shoes, which are heavier, more cushioned and minimal drop trainers.  Scott has chosen to name virtually all of their good quality running shoes the Palani, so it gets a bit confusing.
If you want to pick up a men's/women's model you can buy them on Amazon with this Amazon Affiliates link.  This gives me a little commission, helps support informative reviews like this and doesn't cost you anything.
My Method for Testing
I was hesitant to try out these shoes at first because they're quite clearly a neutral shoe, while I run almost exclusively in stability shoes.  Nevertheless, since they ended up in my possession I decided to give them a shot.
I always start out with short runs and then move into longer runs when trying out a new shoe.  Initially I used these shoes for tempo runs and faster "t-runs" (also called brick runs), where I run immediately after a long training ride on the bike.  This seemed to make sense because if you happen to pronate like myself, your running form is a little bit better when running fast, so the need for a stability shoe that provides some pronation control is less when running fast than when running slow.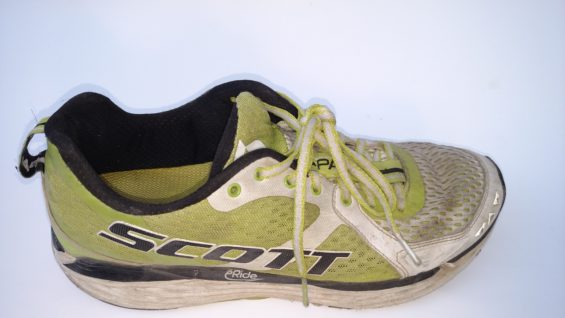 (some nicely worn Scott T2 Palanis)
Key Strength: Good for Several Applications
The nice thing about these shoes is that they can be used for just about any application.  They are light enough to be used for speedwork on the track or tempo runs, but there is also enough support to do a longer run with them.
In addition, some racing flats suffer from the problem of having such little cushioning that they are impractical for trail running because rocks are able to poke through the cushioning, but this is not the case with the Palani.  This allows you to do trail runs in them on sketchy terrain.  In my opinion, most people will want less stability and more flexibility in their trail running shoes anyway, which the Palani provides. A heavy, clunky shoe deadens your ability to feel the ground and leaves you more susceptible to ankle rolls and sprains.  Trail running in the Palani was always a joy because I was more agile in comparison to trail running in my heavier training shoes.
Of course, the Palani would be good for its intended purpose, which is triathlon; hence the name "T2."  I would seriously consider and recommend this shoe for the marathon in an Ironman.  It's a bit heavy for sprint triathlons (typically 5k runs) and Olympic triathlons (10k runs), but if you're not super concerned with performance than it shouldn't be a problem.  Personally, for 2016 I ran all my races including Ironmans in the Zoot Tempo (reviewed here), simply for the weight savings.
Sizing
I found the Scott Palani runs true to size.  I wear size 9 and these fit the same as any other of my size 9s (Brooks, Mizuno, or Asics).
Weight
My size 9 Scott's weighed in at 10 oz./286 grams.  That is a per shoe measurement. This is quite a bit more than is stated by Scott (see link to Amazon below) at 240 grams, possibly because they weigh a smaller shoe.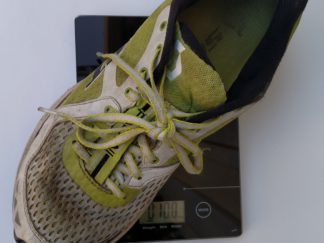 Laces
Yes, the flat-style laces on the Palani don't stay tied, unless you want to triple-knot.  Replace them with some standard laces and you'll be good.  There is nothing wrong with the uppers – it's just the laces.
Durability
I gave up tracking my mileage in each running shoes a long time ago, and usually just wait for the first sign of unusually sore inner calves (the onset of shin splints) to indicate to me a shoe is worn out.  I must have 350+ miles on these shoes and they haven't died on me yet!  That's pretty good for a lightweight trainer.
Comparability
I haven't run in every shoe out there but I'd compare these to the Mizuno Sayonnara or Asics DS Trainer. Of course, both those shoes have more stability than the Palani reviewed here, but at least they are in the same category of lightweight trainers.
Other Reviews
While other reviews are very brief and the wear testers probably did not use the shoes for very long (hence the need for this post), they do seem to support many of my conclusions.  Run Repeat did a nice review, while Runner's World also did a short review.
Conclusion
'That's about it for my Scott Palani Review!  If you found value in this post and would like to pick up some Scott Palanis, I'd be extremely happy if you used the link below which will redirect you to Amazon.  This will help support my efforts through the Amazon Affiliates program and doesn't cost you anything.  However, if you're unsure what size you'll be, you may want to try some at a local running shoe store such as Run 26 before buying, and then not hose them out of the sale after they have helped you.  That's okay by me too.
Until we run (or ride or swim) again,
Matt Sheeks
[Matt Sheeks is a participant in the Amazon Services LLC Associates Program, an affiliate advertising program designed to provide a means for sites to earn advertising fees by advertising and linking to Amazon.com]
My Final Rating
★★★★★
"
The Scott Palani 2.0 is a great running shoe because of it's diversity of applications.
"