Eastern Oregon Altitude Project
If you want to run hard, put in the miles, live one week to its fullest, and experience God and the beauty of His creation, then you will want to investigate what the Eastern Oregon Altitude Project has to offer.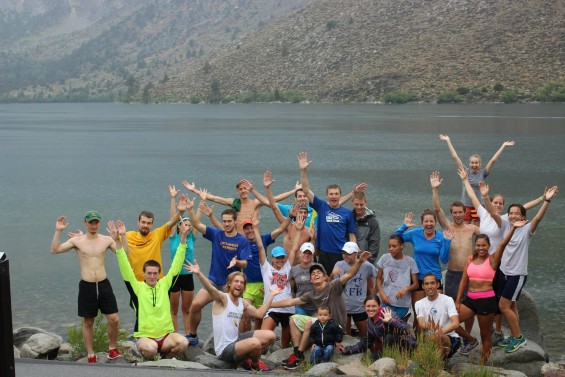 As you know, being a distance runner is BIG commitment which doesn't stop when your training for the day is over.  It affects almost all decisions you have to make throughout the day.
Unfortunately, most mission trips and other ministry projects don't accommodate the distance runner type of lifestyle.
Several collegiate and post-collegiate runners (primarily Greg Jimmerson who ran at Stanford and Avery Blackwell who ran at Cal Poly) saw a need for a Christian distance running camp, and The Altitude Project was created.  They recognized that Christian distance runners need support, equipping, and encouragement to live out the Christian life as college distance runners on their teams.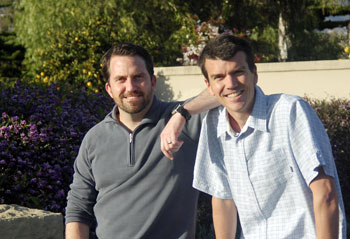 (Greg Jimmerson one time outran Bob Kennedy at USATF Cross-Country nationals to make the USA team.  And Avery…well he was pretty fast too.)
Throughout the years, the Altitude Project was hosted in Mammoth Lakes California.  Several professional runners, world-renowned coaches, and very fast men and women have been a part of Altitude Project over the years.  2:04 marathoner Ryan Hall is perhaps the best-known athlete to be a part of Altitude Project both as a camper and as a speaker.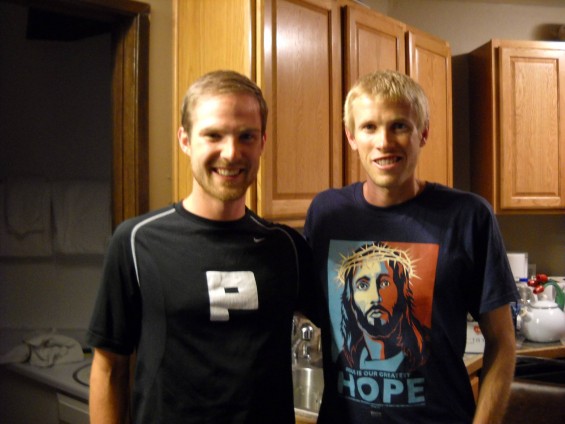 (that's me with Ryan Hall!)
But….
What's more important than a runner's pedigree is what God says about a person.
If you've trusted in Christ to pay the penalty for your sins and give you eternal based on His finished work alone, then the following is true about you:
– Your sins are forgiven (Colossian 1:14)
– You are a child of God (John 1:12)
– You have Jesus' righteousness credited to you (Romans 3:21-4:8)
– You have eternal life (John 3:16, Romans 6:23)
– You have the ability to be empowered by the Holy Spirit to say no to sin and yes to life (Galatians 5:16)
– You have been reconciled to God (2 Corinthians 5:18)
– You have a relationship with God (Romans 8:14-16)
– God will never leave you (John 10:28-29)
These are all truths which we seek to live in light of at Altitude Project.  They change everything about how we live because our identity, value, and self-worth are not determined by our performance but by Jesus Christ's perfection which is credited to us.
Many of us have had our faith positively impacted by Altitude Project, and there continues to be a community of believers that are connected beyond simply attending the camp.
Here's what Amanda Winslow from Florida State University had to say about her experience at Altitude Project:
"The Altitude Project is the perfect camp to train you spiritually and physically for not just your next racing season, but for life! I learned so much there about myself as a runner, but more importantly about how to gain a personal relationship with God. Before coming to Altitude, running was my life, but this past summer really changed my heart and opened it up to see the bigger picture of life beyond running PRs and winning titles. I'll admit I was nervous going to a camp so far away and spending most of my money (mainly for the flights). However, I can honestly say now I'd still go even if it had cost double, because the experience itself is priceless! If you love running, but love God even more, the Altitude Project, with its gorgeous mountain setting, amazing trails, fun activities, scrumptious food and caring and compassionate staff are well worth your time and money."
Another Story I really like is from Mike Rodriquez, who went to Drake University: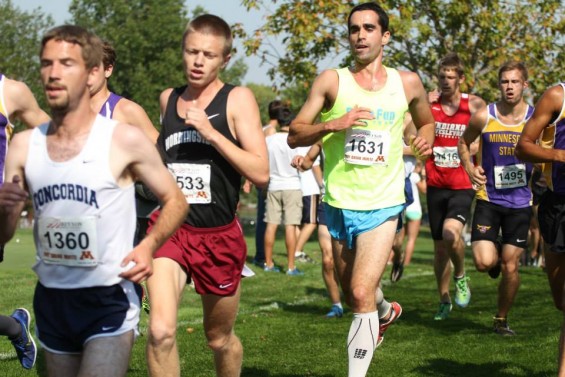 "The first summer I attended the Altitude Project, I was discouraged at first by the cost: I would have to put my entire summer savings forward to pay for airfare and the price of the camp. I ultimately decided to go "all in" with my savings for three weeks in Mammoth Lakes, I hoped it would be worth it…
It turned out to be three of the best weeks of my life. Spiritually, I was very young in my faith at that point, and I was greatly encouraged to see so many other young runners and Christians my age striving to seek and follow the lord and run for Him! Before I was a Christian, running was a huge idol in my life, and the theme of the camp in 2010, chasing after the wind (Ecclesiastes 2:11), allowed me to see the vanity of putting my hope in something that I love, but could never completely fulfill me. At camp, I learned how I can use my running as a spiritual act of worship and allow the Lord to receive all the glory! This camp encouraged and strengthened my faith through daily bible study and altitude (worship and teaching) sessions. One of my favorite aspects of camp is personal time with God, a time to connect with the Lord in his beautiful, and breathtaking creation."
Why Eastern Oregon Altitude Project?
Unfortunately, the official Altitude Project won't be happening this year.
However, several previous altituders and I are putting together an alternative camp in Eastern Oregon.  This will be an independently run camp but will carry on many of the traditions that several of us grew to know and love that were part of Altitude Project.  If you join us at the Eastern Oregon Altitude Project, you'll come to realize why many people refer to the area as "God's country."
Our goal is to develop collegiate distance runners to excel in competitive running and Christian living. 
At the Eastern Oregon Altitude Project, you'll be challenged to deepen your walk with God and live out your faith on your team.
We're interested in the physical development, spiritual development, and social connection of Christian distance runners, and all three of these receive deliberate attention throughout the camp.
How we develop these 3 aspects while at camp:
Physical
Primary Workouts – Running sessions every morning that will get you super fit! Read on to learn more about our running and trail options.
Secondary Workouts – Optional afternoon sessions which might include running, cross-training, strength training, hiking, biking, swimming, etc.
Training Tidbits – informational sessions on performance related topics such as strength training, nutrition, performance enhancers, and injury prevention.
One Last Blowout – In running camp tradition, we will have an insanely long, mind-bending and physically demanding final session that will either destroy you or make you stronger.
Spiritual
Bible Studies – Every mid-morning after brunch. We'll be studying the book of Galatians and cross-referencing it with Romans.  As you may be aware, both of these books are pure gold; they  help us understand the love and freedom that we stand in as believers in Christ
Testimony development – Several counselors and campers will be challenged to tell the story of how they came to know Christ and how their life continues to be impacted by their relationship with Him.
Apologetics – We'll explore the intellectual foundations for the Christian faith, and how we can defend our beliefs in the college setting.
Service – Yet to be decided, but we'll likely help clear some trail while at the camp. If you remember bring your chainsaw in your carry-on! Kidding!
Social Connection
Planned outings – We'll visit some historical artifacts in the area including some Eastern Oregon ghost towns  and The Sumpter Valley Dredge, but mainly we'll explore the natural beauty that the area has to offer.
Free time – This area has massive untapped potential. Go fishing, hike, bike, shoot, hunt, swim, start a bonfire, or go get lost in the woods.
When is the camp?
The camp starts the evening and July 31. We will leave Sunday, August 7.  This is a full seven-night stay!
Most campers will fly in and out of Boise International Airport.  We recommend scheduling your flight to get in no later than 5pm on the 31st if at all possible.  It is about 3 hours to the camp from Boise.
Where is the camp located?
It's somewhere between Boise, Idaho and Bend, Oregon.  Essentially this is gold mining country that was forgotten about.  Pine, lodgepole, and larch trees cover much of the areas, with beautiful prairie and meadows in-between.  There are few massive peaks but plenty of moderately graded mountains.  What this means is prime real estate for dirt roads and trails that are suitable for running!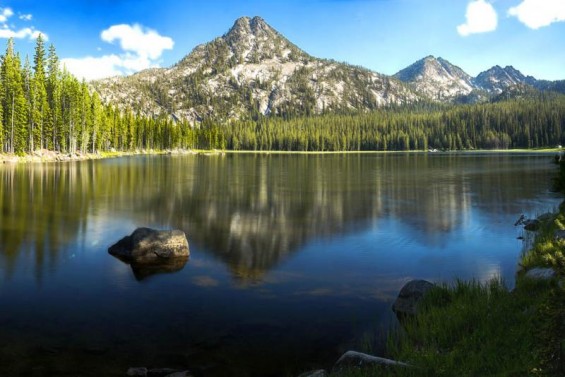 The nearest town you might find on a map is Granite, Oregon (population 38).  To tell you just how insignificant of a town this is, the town of Granite finally got the electric telephone in the year 2000!  In fact, there is virtually no cell reception for about 10 miles (but there is wi-fi in Granite).  The closest city (about 1 hour away) of any notable size is Baker City, Oregon, which has a population of 10,000 or so.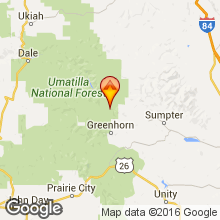 Where are we staying?
It just so happens that there are cluster of cabins owned and operated by the National Forest Service that are nestled at 5000 feet which are very near OIive Lake.
Fremont Powerhouse is where the Eastern Oregon Altitude Project will stay for 2016.  It's essentially an old hydroelectric power plant location that is no longer in operation.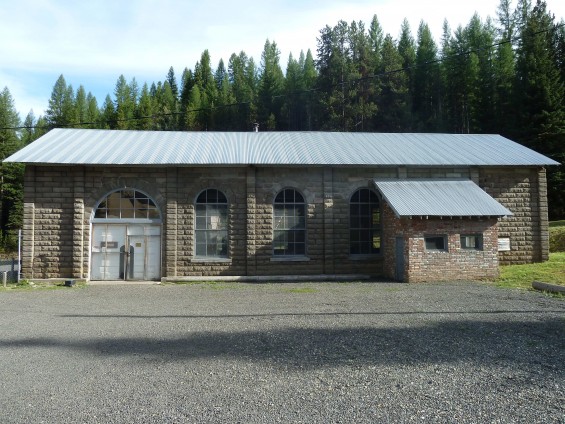 We have 2 cabins reserved at the Fremont Powerhouse, Congo Gulch and Miner's Retreat.  The Congo Gulch sleeps 10 and Miner's Retreat 6.  Each cabin has running water, electricity, beds, and a kitchen with cooking items.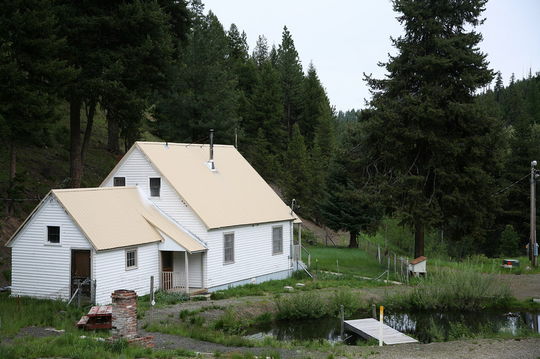 Bringing your own bedding will be a good idea, or you can arrange with us if you're flying and can't fit a sleeping bag into your check-on luggage, and we will work something out.
Are you ready to sign-up?
Signing up is easy.  We are asking that you make a $100 deposit to reserve your spot.  Just send a paypal payment to matt@tritheos.com and you are good to go! There are only 14 spots available, so get on it!
The total cost for the camp is $350 for the entire week.  You can settle up once you arrive at camp (check or cash only at this point) or pay it all in advance if you wish.
Questions, Comments?
Please address any questions you may have to me at matt@tritheos.com.  I'd be more than happy to get ahold of you personally.
In the next post, we will go into more detail about the specific running territory we'll visit, and cover some FAQs.